SSPEED UH is focused on developing a disaster-trained workforce (DTWF) and reaching out to grades K-12 to inculcate knowledge and readiness about severe storms and hurricanes..
Education activities in SSPEED include workshops and K-12 training modules for middle and high school audiences. Some of the training modules are listed below.
Earth Day at Discovery Green with Bayou Preservation Association
In collaboration with Bayou Preservation Association, the SSPEED research team at UH has presented
educational activities and information in the Water Zone at Earth Day Houston since 2009. At this annual event, the team discusses water quality in the Houston Ship Channel and the region's bayous as well as weather related issues with Earth Day visitors. To engage young people, the UH team hosts the Great Rain Gauge Relay Race. Information about water conservation, pollution and severe storms is discussed and area Watersheds are displayed for visitors to pinpoint which Watershed they live in.
Field Trips to University of Houston
Since 2010, SSPEED has hosted semi-annual field trips to the University of Houston campus for Fonville Middle School students.  The students are 8th grade Technology Applications students. The field trip is organized around severe storms, their impact, water quality and the research behind these topics. Students are divided into groups and participate in water sampling activities at the UH Pond in front of the Engineering complex, observe water flow in the fluids Flume lab, view water samples in the Environmental Lab and visit the Architecture building to view projects from Dr. Colbert's group. The second half of the laboratory visits and other University stops include the Nanofabrication laboratory and the University Library.
KIPP SHINE Prep Outreach Activities
A community outreach event for KIPP SHINE Prep was conducted on May 30, 2012. Two sessions were offered with each session having approximately 70 Pre‐K students between the ages of 4 and 5. The presentation focused on understanding hurricanes, their cause and effects, and how they can be safe if a hurricane is coming. Students
participated in an Egg in the Bottle demonstration and picked different objects that they would pack in the case of a hurricane.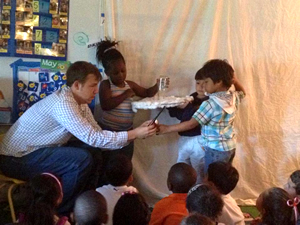 Photograph of Dan Burleson, UH PhD candidate, Interacting with KIPP SHINE students
KIPP Houston High School Water Quality ResearchTraining, November 2010
SSPEED staff trained KIPP Houston High School Students on water quality measuring tools.  Two high school students, Manuela Hernandez and Jennifer Acosta participated in a research project with SSPEED staff at the University of Houston.  The goal of their project was to sample water from Greens Bayou to determine the water quality at 8 specific sites.  They were trained by SSPEED staff and conducted sampling in January.  After taking their samples, the SSPEED staff  monitored their analysis processes in the Environmental Laboratory at UH.
Cook Road Head Start School, Novemer 19, 2010
SSPEED staff presented Hurricane and Flood Safety to pre-K class of 38 children ages 3-4.  The presentation was part of a weekly theme on safety and included an interactive display of flooding and surge impacts on structures.
 
GRADE Camp, June - July, 2008 and June - July 2009
G.R.A.D.E. CAMP or Girls Reaching and Demonstrating Excellence, is a week-long day program designed specifically for entering 8th to 12th grade girls who want to find out what engineering is all about through a "hands-on" experience.
The Great Rain Gauge Race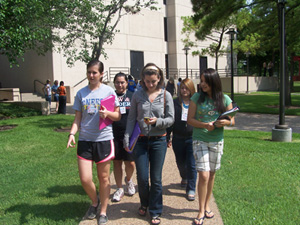 Student teams take a GPS unit and try to locate five different watersheds on the UH campus and measure rainfall events at each watershed using their rain gauges.
The five watersheds were:
Brays Bayou
Buffalo White Oak Bayou
Hunting Bayou
Greens Bayou
Sims Bayou
Once the students arrived at their Watershed they were given information about the Watershed as well as a rainfall amount.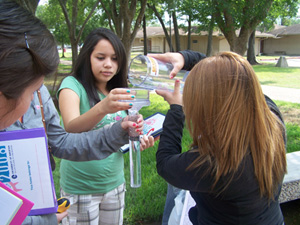 Students had to measure the rainfall amount in their rain gauges and record each amount for each Watershed in their notebooks.
When they finished getting measurements from each Watershed, the teams returned to the computer lab to calculate whether their rainfall measurements would indicate that the bayou would reach flood stage or not.
MESET Training Module, June 2008
The Mentoring and Enrichment Seminar in Engineering Training (MESET) program is a one-week residential engineering introduction program for rising 12th graders.
Girl Scout University at the University of Houston, October 2009